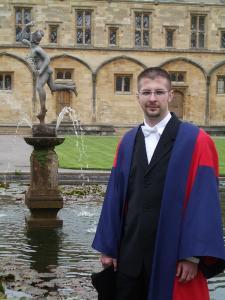 [quote align="center" color="#999999″]
The Scholars Program afforded me the independence to bring together the unique knowledge and skill of two preeminent laboratories. This was essential for me to successfully pursue my ideas from a novel perspective.
[/quote]
After graduating magna cum laude from Case Western Reserve University, Paul earned his D.Phil. from Oxford in under four years through the Scholars Program. Paul's research, under the tutelage of Professor Sir Richard Gardner and Dr. Ron McKay, has advanced our understanding of pluripotent stem cells. Paul published a sole author paper in The Proceedings of the National Academies of Science after only two years into his graduate work and went on to publish a landmark paper in Nature defining epiblast stem cells.
Paul has received prestigious awards for his work including the Harold M. Weintraub Award and the Beddington Medal of the British Society for Developmental Biology. At the age of 29, Paul began leading an independent research group as an Assistant Professor of Genetics at Case Western Reserve University School of Medicine. Paul was recently selected as a Robertson Investigator, an honor that recognizes scientists leading their generation in stem cell research.