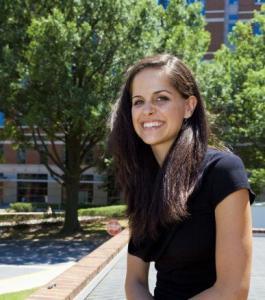 [quote align="center" color="#999999″]
I feel grateful to be part of a program that allowed me to tackle a new scientific problem by fusing the in vitro biochemistry and imaging techniques of an NIH laboratory with the purely in vivo work of a cell biology laboratory at Cambridge – over the course of my doctoral work, I have grown in my knowledge of these diverse fields and have watched my British and American mentors learn from each other!
[/quote]
Lisa Bond graduated summa cum laude from the University of North Carolina at Chapel Hill in 2008 with a Bachelor of Science in Biology. She began her PhD studies in 2008 under the dual funding of a fellowship from the Winston Churchill Foundation of the United States and the NIH Oxford-Cambridge Scholars Program. Over the course of her Ph.D. research, she discovered a novel role for the molecular motor myosin VI in the cellular secretory pathway that controls fundamental movement of proteins to the surface or outside of the cell (1). For her thesis work, she has been invited to give many conference talks and won several prizes. Lisa graduated after a total of just three years of Ph.D. research and then took a postdoctoral position in infertility research at the Medical Research Council Laboratory of Molecular Biology in Cambridge, UK.
(1) Bond L.M., Peden A.A., Kendrick-Jones J., Sellers J.R., and Buss F. (2011) Myosin VI and its binding partner optineurin are involved in secretory vesicle fusion at the plasma membrane. Molecular Biology of the Cell. 22, 54-65.