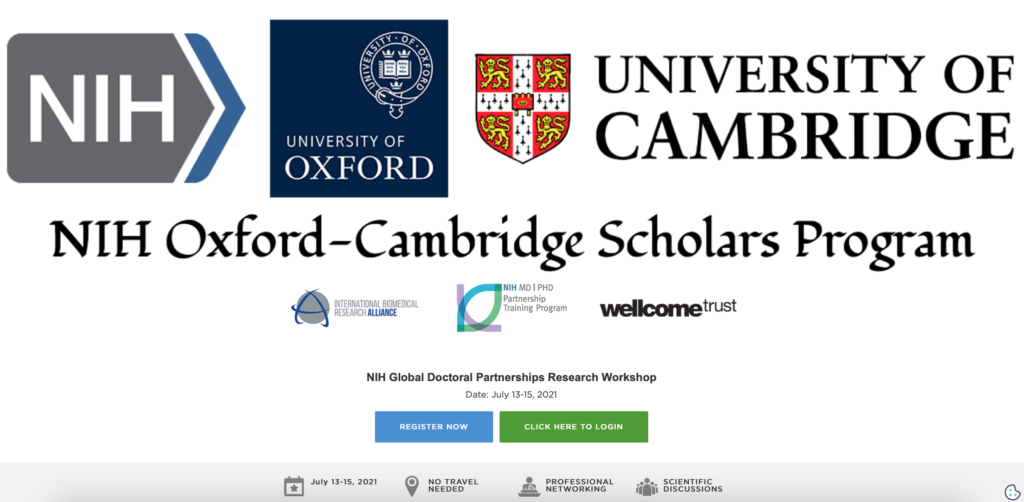 Despite the logistical challenges of a global pandemic, the Workshop Organizing Committee, comprised of current Scholars in the NIH Oxford-Cambridge/Wellcome Trust Program, worked diligently to plan the 2021 Annual NIH Global Doctoral Partnerships Research Workshop. This year the Workshop, entitled Celebrating Science: Looking Back and Looking Forward, was held virtually from July 13-15, 2021. Building around this theme, the Committee sought to unite Scholars, faculty mentors, program leadership, and invited speakers with a goal to enrich the training experience of the Scholars. The Workshop included keynote lectures and student oral presentations, elevator pitches, poster sessions, and long talks. To celebrate the 20th Anniversary of the NIH Oxford-Cambridge Scholars Program, the organizing committee invited keynote speakers, Scholar research presentations, elevator pitch competitions, poster sessions, and extended research talks. Additionally, they hosted a Founders Panel, along with Alumni reunion rooms for alumni and Scholars to connect. Members of the Board of Directors of the International Biomedical Research Alliance served among the faculty as moderators, judges, and elevator pitch team coaches throughout the Workshop.
Opening the 2021 Workshop, Workshop Organizing Committee Chair, and 2020 NIH Gates Cambridge M.D./Ph.D. Scholar Yasemin Cole welcomed the participants and introduced Professor Mihaela van der Schaar, Ph.D. as the Keynote Speaker (Looking Forward). Professor van der Schaar is the John Humphrey Plummer Professor of Machine Learning, AI, and Medicine at the University of Cambridge. Her lecture "Moving Medicine from Art Towards Science Using ML" invited Scholars to engage in and co-develop Machine Learning tools. She shared how Artificial Intelligence and Machine Learning have been essential in responding to the COVID-19 pandemic. This included managing limiting resources, developing personalized and effective treatment courses for each patient, informing policies and improving collaboration, clinical trials, and managing uncertainty. Closing the lecture, Professor van der Schaar encouraged the audience to join Revolutionizing Healthcare, an ongoing series of engagement sessions for clinicians to tackle a wide variety of topics, including interpretability, personalized therapeutics, early diagnosis, and more.
Following Professor van der Schaar's lecture, Alliance Chairman Stephen McLean served as the moderator of the NIH OxCam Founders Panel. The Workshop Organizing Committee invited the individuals essential to the development and evolution of the Scholars Program, including Dr. Michael Lenardo, Dr. Richard Siegel, Professor Gavin Screaton, Dr. Daniel Douek, and Professor Sir Keith Peters to celebrate the Program's 20th Anniversary. Panelists shared their experiences from the early days of the Program's inception and noted the challenges they faced. They credited the early Scholars who took a chance on a new and unique graduate program that paved the path for current and future Scholars. They shared their thoughts about how they saw the Program evolving moving forward.
The Class of 2018 Long Talks were broken up into three sessions, Students Room 1/Infectious Disease, Students, Room 2/Neurology & Cancer, and Students, and Room 3/Developmental Biology, Genetics, & Immunology. The Class of 2018 Outstanding Speaker Presentation Award was presented to Scholar NIH-Oxford Scholar Taylor Farley and the Outstanding Speaker Honorable Mention was presented to NIH-Cambridge Scholar Mehdi Seif Hamouda. After the 2018 Long Talks, Scholars in their final years led the OxCam Reflections Journey panel discussion. Panelists took questions from the audience and shared their experiences in the Program. Day one closed with a virtual showing of the documentary Picture A Scientist, a stirring personal account of brutal and subtle harassment as told by female researchers bravely sharing their own experiences. The film is meant to provide new enlightened perspectives on how to make science more diverse, equitable, and open to all
On day two of the Workshop, Organizing Committee Vice-Chair and 2020 NIH-Oxford M.D./Ph.D. Scholar Sahba Seddighi welcomed back attendees and introduced Keynote Speaker (Looking Back) Dr. Vivian Lee. Dr. Lee is the author of The Long Fix: Solving America's Health Care Crisis with Strategies that Work for Everyone (Norton) and President of Health Platforms at Verily Life Sciences. A physician and health care executive, Dr. Lee also serves as a senior lecturer at Harvard Medical School. In her talk entitled "Lessons from The Long Fix: Coproducing Health" Dr. Lee shared the importance of better data and analytics, partnerships between employers and health systems, and leveraging the emerging digital health space to transform consumers into "prosumers."
Always a highlight of the Workshop, the Elevator Pitch Team Competition challenge is comprised of three teams, consisting of 6-7 first-year students and led by coaches consisting of an upperclassman Scholar, Alliance Director, and an OxCam Executive Committee faculty member. The teams are required to execute condensed research talks as part of the Class of 2020 Elevator Pitch Team Competition. The much-anticipated team competition yielded spirited research presentations, woven into creative formats, geared toward engaging the audience – all in an effort to hone science communication skills. The OxCam in Wonderland team stole the show and were named the 2021 Elevator Pitch Team winners. 2020 NIH-Oxford Scholar Hannah Dada and 2020 NIH-Cambridge Scholar Jacob Gordon were named the Class of 2020 Outstanding Speaker Presentation Award recipients.
The Class of 2019 presented posters with topics including cancer, neurodegeneration, cellular biology, genetics, physiology, and imaging. Class of 2019 Scholars uploaded their posters and interacted with attendees and judges at the Poster Hall. NIH-Cambridge Scholar Abigail Giles was named the Class of 2019 Outstanding Speaker Presentation Award recipient and NIH Gates Cambridge M.D./Ph.D. Scholar Stephen Gadomski was named the Outstanding Speaker Honorable Mention recipient.
NIH OxCam Alumna Dr. Bhooma Aravamuthan opened the Women in STEM discussion with her talk "Women in STEM – Data-based gaps and possible solutions" and was joined by fellow Alumni Drs. Adjoa Smalls-Mantey and Molly Perkins, along with, NIH Senior Investigator Dr. Judith Walters for a panel conversation.
Day 3 began with concurrent Alumni Panel Sessions and Alumni Reunion Rooms to connect Scholars and Alumni. The Academia/Physician-Scientist Panelists were Dr. Madhvi Venkatesh, Professor Elizabeth Brickley, Professor Aaron Alexander-Bloch, Dr. Madhav Sukumaran, and moderated by Alliance Director Dr. Kathy Zoon. The Government & Industry Panelists were Dr. Katie Warner, Dr. Tamara Litwin, and Dr. Tracy Yuen and moderated by Dr. Adam Knight. To conclude the Workshop, the Annual Research Awards Ceremony announced eight Alliance Sponsored Awards, along with, Outstanding Speaker Presentation Awards and Honorable Mentions for each class year (noted above in the order they appeared in the agenda), and the winning team for the Elevator Pitch Competition (also noted above). Details on the winners can be found in a separate article on this page.
To welcome the Class of 2021, the Workshop Organizing Committee stitched together a video of the new Scholars introducing themselves to the audience, opening with a Star Wars-themed presentation. Scholars were invited to participate in a Town Hall discussion and concluded with a Pub Quiz night.
Congratulations to Scholars Alex Waldman, Emily Kolyvas, Stewart Humble, and Stephen Gadomski for being named the 2021 Photo Contest Winners for their My Cool Science and/or My OxCam Experience submissions. Please find these photos in the 2021 Alliance Journal, which can be found alongside the Program Agenda here.
The Board of Directors of the International Biomedical Alliance would like to acknowledge the following individuals and organizations whose steadfast support makes a meaningful difference for the next generation of scientists: Arsenal Capital Partners, AuerbachSchrot, LLC, BioHealth Innovation, Bluestreet Productions, Certara, Emergent BioSolutions, FAES, Institute for the Future of Medical Education, Lasker Foundation, MacroGenics, Michael Lenardo, M.D., National Institutes of Health, Regeneron Pharmaceuticals, Richard Siegel, M.D. and Vera Siegel, University of Cambridge, University of Oxford and WCG.