This week on Science Clear+Vivid host Alan Alda leads a conversation with another rising talent in science, Dr. Audrey Winkelsas. Dr. Winkelsas, an alumna of the NIH Oxford-Cambridge Scholars Program, recently completed her PhD work in the laboratories of Dr. Kenneth Fischbeck at the National Institute of Neurological Disorders and Stroke and Prof. Matthew Wood at the University of Oxford. During her PhD, Dr. Winkelsas investigated the molecular mechanisms in the pathogenesis of spinal muscular atrophy (SMA). She recently showed promising results for an RNA-targeting therapeutic developed to treat the debilitating genetic disease SMA.
Dr. Audrey Winkelsas has a rare genetic disease called Spinal Muscular Atrophy. While it limits her physical abilities, it has helped ignite her passion for science as she works at the laboratory bench – aided by her mother – to find a novel medication to help SMA patients manage the disease. Listen here.
"I am honored to have had the opportunity to talk with Mr. Alda! I hope that our conversation raises awareness about spinal muscular atrophy and the potential for RNA-based therapeutics to alter the course of many hereditary diseases. I also hope that our conversation communicates that people with disabilities, a group that is considerably underrepresented in science and medicine, have a place in these fields," remarked Dr. Winkelsas.
Dr. Winkelsas will be attending the University of Michigan Medical School through Track 3 of the Medical Scientist Training Program this fall, furthering her goal of becoming a physician-scientist.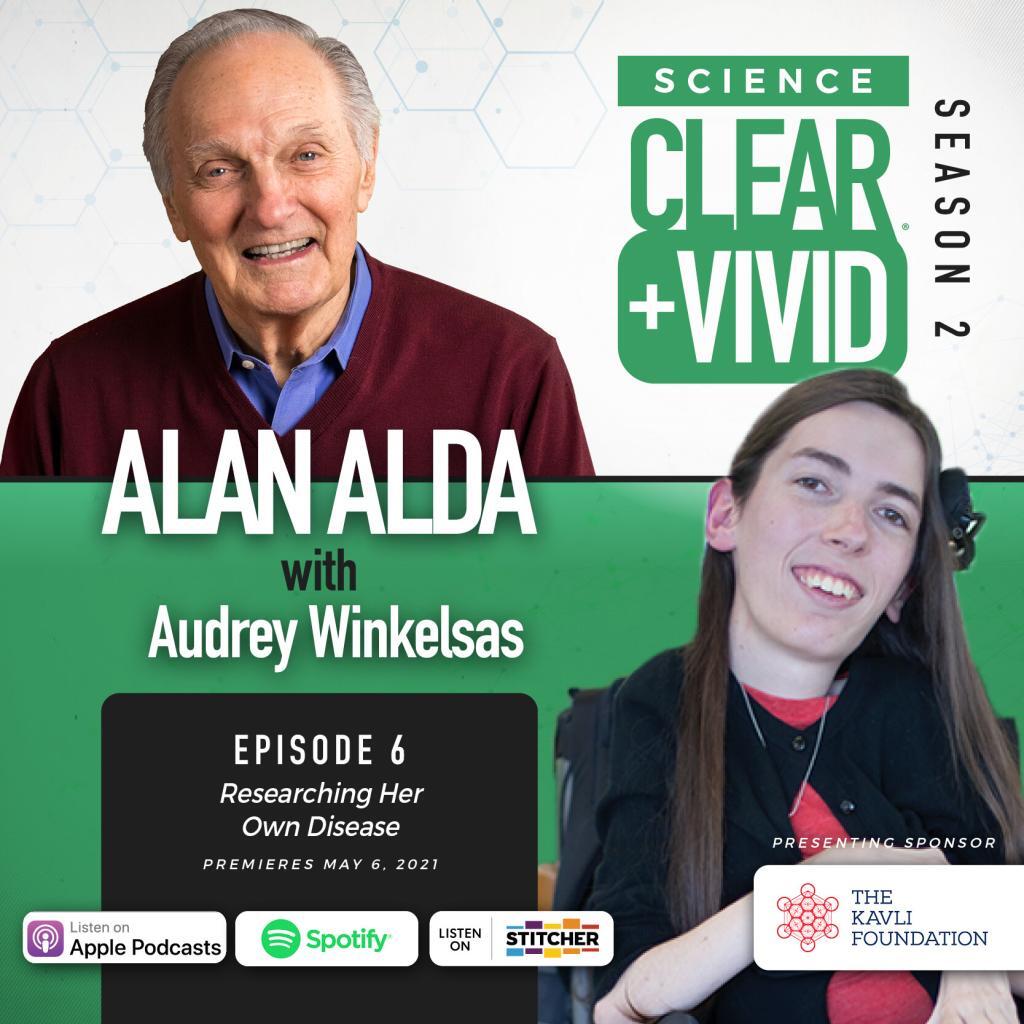 During this season's podcast, Science Clear+Vivid host Alan Alda leads a conversation with 10 guests who each share their point of view and unique experience about basic science and their personal stories – what got them interested in or involved in science. Last week, Alan Alda spoke with physician-scientist brothers and NIH Oxford-Cambridge Scholars Program and Rhodes Scholars Alumni Dr. Eugene Shenderov and Dr. Kevin Shenderov. The "Brothers Shenderov" escaped with their parents from the Soviet Union shortly after being exposed to radiation from the Chernobyl disaster. They are now physician researchers whose personal experience shapes both their research and their relationship to their patients. Learn more and listen here.