You may recognize Emmy and Golden Globe Award winner Alan Alda from the hit series M*A*S*H and Scientific American Frontiers, but did you know he is a long-time science communication advocate? He is the founder of the Alan Alda Center for Communicating Science and is host of the hit podcast Science Clear+Vivid, supported by the Kavli Foundation. 
Science Clear+Vivid features conversations with early career scientists on how curiosity is the engine of discovery and innovation and the power of basic scientific research – from the pure to the practical. What is curiosity-driven research? Why does it matter? How does it play a role in transforming our lives? Where does basic research take place, by whom and why is investing in basic research essential to society? Answering these deep-dive questions are among fuels the core mission of the International Biomedical Research Alliance and the graduate training program it enthusiastically supports – the NIH Oxford-Cambridge Scholars Program – so it is no wonder that three alumni of the program are included in Host Alan Alda's interview line-up this season. 
On the next episode of Science Clear+Vivid, released today, Thursday, April 29, Alan Alda talks with two physician-scientist brothers, who are NIH Oxford-Cambridge Scholars Program Alumni and Rhodes Scholars – Dr. Eugene Shenderov and Dr. Kevin Shenderov. Brothers Eugene and Kevin Shenderov escaped with their parents from the Soviet Union shortly after being exposed to radiation from the Chernobyl explosion. They are now physician researchers whose personal experience shapes both their research and their relationship to their patients. Dr. Eugene Shenderov, Instructor of Oncology, and Dr. Kevin Shenderov, Instructor of Medicine, are both at Johns Hopkins Medicine.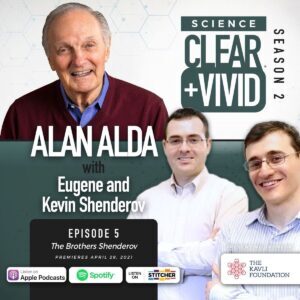 Dr. Eugene Shenderov stated, "It was an honor to discuss with Mr. Alan Alda how the frontiers of science are not defined by geography and how privileged we both were to participate in the NIH Oxford-Cambridge Scholars Program, which allowed us to engage in cutting edge science at leading global institutions from the NIH to University of Oxford to Johns Hopkins University." Dr. Eugene Shenderov is a physician-scientist striving to develop the next generation of cancer and allergy therapies and provide leading edge healthcare for all. 
Dr. Kevin Shenderov is currently a Chief Resident for the Johns Hopkins Hospital Internal Medicine residency program and will be returning to a Pulmonary/Critical Care Medicine fellowship in July. He aims to be a physician-scientist who helps develop novel therapies for critically ill patients with conditions such as sepsis and lung injury.  "It was a pleasure to step away from the day to day of our current work in the hospital/lab to discuss the amazing advancements made possible by science (such as having a vaccine for COVID-19 within a year!) and the joy of the scientific process. I hope that budding scientists listening to the podcast will be encouraged to pick up their pipettes and start their own scientific journeys," remarked Dr. Kevin Shenderov. In 2014, Johns Hopkins University highlighted The Brothers Shenderov:  How a medical odyssey launched in the shadow of Chernobyl inspired the careers of two rising young stars in immunology.
On May 6, 2021, Alan Alda will talk with fellow NIH Oxford-Cambridge Aluma Dr. Audrey Winkelsas. Dr. Winkelsas graduated from Oxford University in 2020 and recently published a study focused on boosting levels of the protein missing in individuals with spinal muscular atrophy by interacting with specific RNA molecules. Learn more about her work here.  
To stay up-to-date on Science Clear+Vivid, you can listen online, download it on Apple Podcasts or via your favorite streaming app.