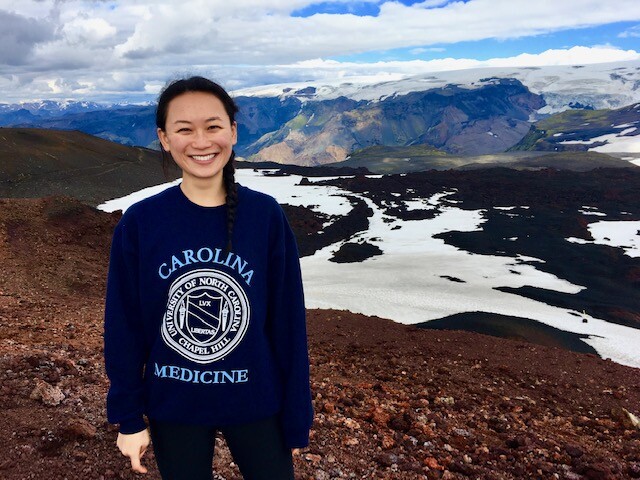 Agriculture farmers will tell you that a successful season is built upon patience, risk taking, hard work and favorable conditions. The similarities to successful research are obvious. Boya Wang is a modern-day farmer in biomedical research where her current work focuses on the development of tests to better diagnose solid and liquid cancers. When cancer cells die, they release free floating DNA into the blood. Boya is working to develop tests to sequence DNA from patient's blood samples. This would allow her to detect DNA released by cancer cells. "Many times, the cancer DNA is very low and so you come across the problem of trying to find a needle in a haystack – where the needle is the cancer DNA." Boya explained. Her excitement to work in this field stems from the potential she sees in industry and in public-private partnerships. "This field is an example of successful translational research. There are many academic labs and private companies who are developing these blood tests. There have been promising clinical trial results and even more ongoing trials. Ultimately, I hope to contribute as much as possible during my current training and in the future with my goal of being a physician scientist."
After completing her degree in Chemistry at the University of North Carolina at Chapel Hill(UNC), Boya decided to pursue an MD/PhD. This decision was inspired by her mentors at the at UNC Cystic Fibrosis Center who taught her how research could benefit patients and how patients could influence research. Throughout her undergraduate, Boya led a nonprofit organization to establish a medical lab in Lawra, Ghana. After graduation, she worked in the lab of Dr. Camille Ehre at UNC. Boya used primary human epithelial cell models to investigate new compounds which break down mucus in patients with obstructive lung disease. This work was published in American Journal of Respiratory and Critical Care Medicine. In total, Boya's research experience motivated her to address questions with clinical relevance and learn bioinformatic skills applicable to a range of topics. She could not imagine a more exciting career and was enthusiastic to become an MD/PhD Scholar through NIH OxCam and UNC. After completing two years of medical school, Boya started her PhD in 2019 collaborating between Dr. Louis Staudt (NIH – National Cancer Institute) and Drs. Nitzan Rosenfeld/Carlos Caldas (University of Cambridge – Cancer Research UK).
Due to COVID-19, Boya left the UK and returned to the NIH. Her mentors and the NIH-OxCam Scholars Program provided significant support and flexibility to adapt to unusual circumstances. Boya's mentors helped shape her project to include both lab work and data analysis to better adapt to changing circumstances. Outside of the lab, she is a member of the student leadership board (SLB) and works in concert with fellow students to help welcome the incoming NIH-OxCam class.