Each year, the International Biomedical Research Alliance (Alliance) organizes career development field trips for the students in the NIH Oxford-Cambridge Scholars/Wellcome Trust Program. From the Goddard Space Center to MacroGenics Inc., the Alliance provides the Scholars with opportunities to see a broad range of career options and meet with professionals in their fields. They not only hear about career paths and insights, but they are also given the chance to network and discuss their research.
            Inspired by former Scholars Program Scientific Director, Dr. Thomas Wynn, the Scholars visited the Cambridge-Boston biopharma cluster for a career development field trip.  Dr. Wynn, Vice President, Discovery; Group: Inflammation and Immunology, invited the Scholars to Pfizer KSQ, sharing perspectives of research at "big pharma" versus academia.  The Scholars toured the facility, heard from a panel of Pfizer scientists and physicians, and met with alumni Drs. Trey Gieseck and Matt Maciejewski. Pfizer's Dr. Lori Fitz, Director of Outreach and Technology Platforms, set up an overview of LabCentral, a first-of-its-kind shared laboratory space designed as a launchpad for high-potential life-sciences and biotech startups. The Scholars toured the facility with Luke Wallrich, Senior Manager of Events & Operations, and had small group discussions with LabCentral entrepreneurs, including Dr. Iain Kilty, Dr. Paul Yaworsky, and OxCam alumnus Dr. Stan Wang. "The LabCentral site visit stood out to me the most. I was in awe of the quality of the space and the palpable sense of innovation and talent hanging in the air. I was additionally impressed by LabCentral's pioneering model for supporting fledgling biotechs (some with only a single person!) and their impressive track record for seeing returns on their investments in the form of successful startups and LabCentral alumni," stated NIH-Oxford MD/PhD Scholar Lawrence Wang. 
Alliance Alumni Director Matt Maciejewski, an Associate Director at Pfizer and head of Data Science in the Inflammation and Immunology Department, organized visits to a range of biotech companies. Following the trips to Pfizer and LabCentral, the Scholars visited Relay Therapeutics, a company that leverages the relationship between protein motion and function, creating opportunities to develop more effective therapies for multiple diseases. Led by Dr. Dipali Patel, the Scholars learned about Relay Therapeutics Portfolio and Platform, had a lab tour with on-site lab scientists, and enjoyed a lunch Q&A panel, including people who have transitioned from academia and higher education to industry.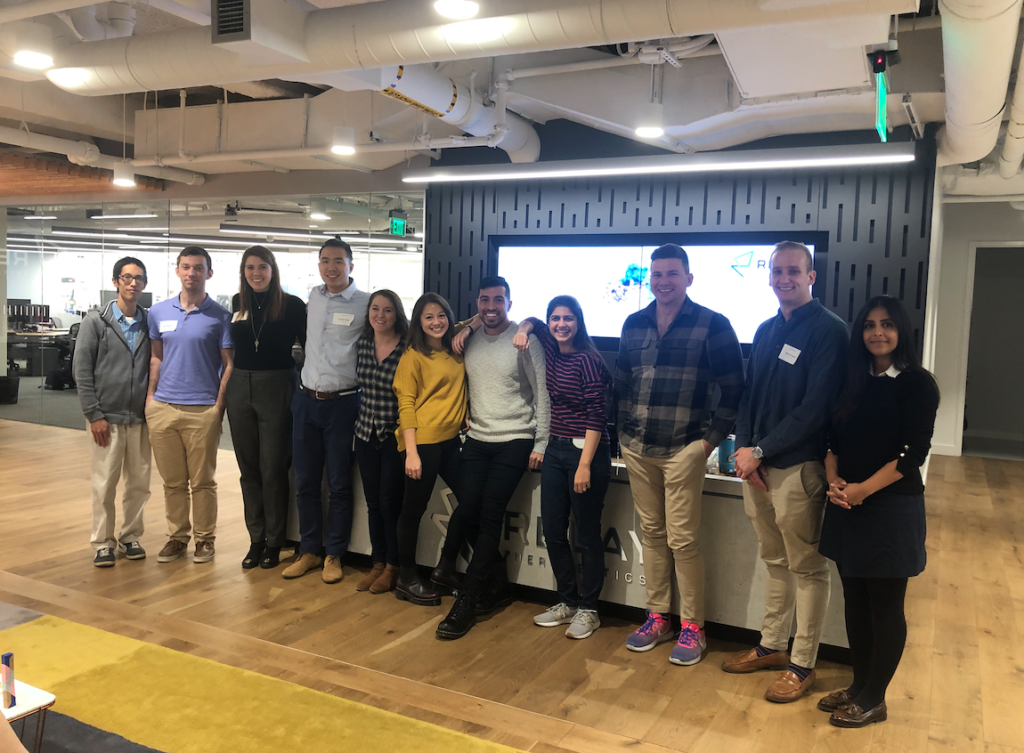 Following the visit to Relay Therapeutics, the Scholars headed to bluebird bio, where alumna Dr. Molly Perkins, the Director of Oncology R&D, graciously hosted the Scholars. She told her story of transitioning into biotech from a postdoctoral position, as well as sharing that during her time at bluebird bio, it grew to over 800 employees across the U.S. and Europe. The company develops pioneering gene therapies for severe genetic diseases and cancers, and Dr. Perkins is at the forefront of it. "This trip enabled me to see how an idea can grow and become reality in the world of research and medicine. On this trip, we saw companies at LabCentral that were as small as a single person, to early stage startups enabling technology to find new therapeutics at Relay Therapeutics, to companies with several successful clinical trials and rapid growth at bluebird bio. The perspective this trip gave me will help me to enact a vision of turning bench discoveries into new medicines, and I'm grateful for the opportunity we had to take it," stated NIH-Cambridge MD/PhD Scholar Sean Corcoran.
Since Boston is a global center for both biotech and tech firms, it is no surprise that it is now home to over twenty NIH OxCam alumni. To round out the Scholars experience, alumni were invited to network with the group and share their stories. From their experiences in the program to becoming entrepreneurs, to starting families and sharing adventures, the Scholars were able to hear from alumni and have one-on-one time with them. "The Boston career development field trip represented one of the most impactful experiences in my PhD thus far for it showed me how a physician-scientist can fit into different areas of biotech depending on interests. I was inspired learning the journeys of young alumni of the program that have made the transition from academia to industry. It is always nice to learn what the scholars before us have done and are doing with their degrees. I gained not just career advice from these interactions: I even learned new lab techniques – how to exsanguinate a mouse completely," stated NIH-Cambridge MD/PhD Scholar Hannah Mason. "I came away from the trip having reaffirmed my desire to one day end up in the biotech space designing and implementing clinical trials: I want to be a part of finish-line science, bringing drugs and therapies to clinic."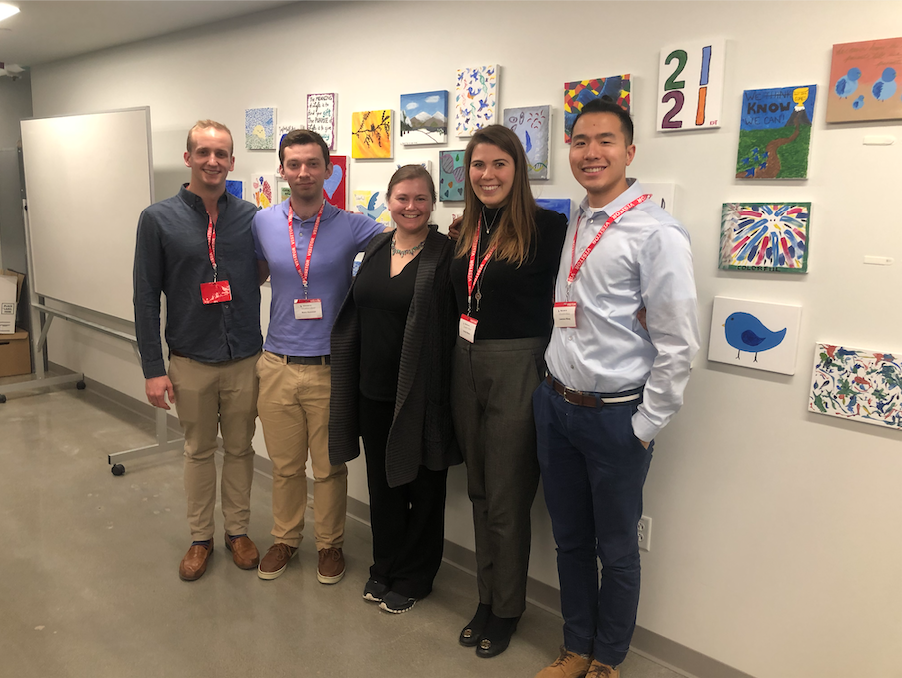 NIH-Cambridge MD/PhD Scholar Mario Shammas commented, "This trip was my first exposure to industry, pharma and biotech companies. I felt as though I was able to see the whole spectrum of company sizes and their stages of development. For me, the most striking thing I learned about was LabCentral and the concept behind it – that you can buy a bench (or even half a bench) and use that for experiments when the company is still in its 'proof-of-concept' phase, and to use LabCentral as a springboard to develop into something bigger. It was great to see how small companies like Relay Therapeutics have almost all of their staff focused on the same objective but going at it doing their respective jobs. It was also nice to hear about how bluebird bio was able to grow so rapidly in such a short period of time. We have almost no exposure to industry during our training, and are told very little about it – this trip gave me a much better perspective on what happens in industry, and I am very grateful for having had the opportunity to be part of it."