Launched in 2018, the Alumni Directors' position was created so that the Board of Directors of the International Biomedical Research Alliance ("Alliance") would always include two members from the NIH Oxford-Cambridge Scholars Program and/or NIH-Wellcome Trust Program. Called to action last October, alumni of the NIH Oxford-Cambridge Scholars Program and/or NIH-Wellcome Trust Program were invited to nominate themselves for this opportunity. Appointed for two terms, the first Alumni Director would begin their membership in 2019, and the second following in 2020. With exceptional backgrounds and experience, we are delighted to announce the appointments of Drs. Ambika Bumb and Mateusz Maciejewski.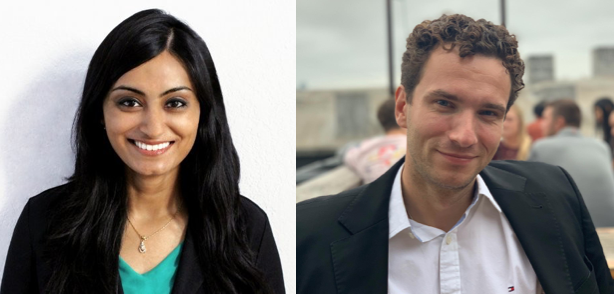 Dr. Ambika Bumb is the Strategic Advisor to the Energy Sciences Area of the Lawrence Berkeley National Laboratory and former CEO of Bikanta. Ambika's area of interest is nanomedicine, the application of nanotechnology for medical diagnostics and treatment high-level strengths. She graduated from Georgia Tech with a B.Sc. in Biomedical Engineering and a Minor in Economics, while being recognized with the Helen E. Grenga Outstanding Woman Engineer and E. Jo Baker President's Scholar Awards. She then obtained her doctorate from the NIH-Oxford Program while also on the Marshall Scholarship and continued her training with two post-doctoral fellowships at the National Cancer Institute and National Heart, Lung and Blood Institute.
The NIH recognized Ambika for her post-doctoral work with the Orloff Technical Achievement Award as a "platform" technology with implications that will broadly advance medicine on multiple fronts. Her endeavors in the areas of nanomedicine and diagnostics have led to 16 patents and the spinout of the biotech Bikanta, named 1 of 4 Best Diagnostics Startups of 2015 by QB3. She has received much recognition for excellence in engineering, was profiled early in her career in Nature as a successful young scientist on the fast-track, and named as one of 40 under 40 influential Bay Area business leaders.
Complementary to her scientific and commercial interests, Ambika has also been involved in science outreach/education and national policy initiatives, such as the National Nanotech Initiative, Nano Task Force, Cancer Moonshot Initiative, and as a nanopolicy writer for Techcrunch.
Dr. Mateusz Maciejewski heads up data science-based research at the Inflammation and Immunology department at Pfizer. His research employs machine learning to integrate various types of data and build models that improve our understanding of disease mechanisms, and to aid decision making and patient stratification.
Matt obtained his PhD within the Wellcome Trust – NIH program, where he used computational methods to study the relatively under-explored dynamic nature of biomolecules and therapeutic peptides that play a role in diseases associated with the innate immune system. He was the first official graduate of the NIH-Wellcome Trust program. He completed his first two years of chemistry program on full merit-based tuition scholarship at Silesian University of Technology before transferring directly to the third year of the more interdisciplinary program at the University of Edinburgh obtaining a B.Sc. in Chemistry: First Class Honors. Matt has researched computational/machine learning methods for exploring structure-activity relationships and mitigation of adverse drug reactions during his postdoctoral work at the Novartis Institutes for BioMedical Research.
Additionally, Matt has been involved in entrepreneurial pursuits, apart from purely scientific, such as co-founding and serving as the CTO of a startup focused on electronic medical record analysis, or creating a technology used for predicting adverse drug reaction signals in post-marketing data.
The Alliance is thrilled to welcome these exceptional scientists and is looking forward to their excellence and participation on their board of directors.