Current research on the adoption of academic and scientific values, whether stimulated in a classroom, an internship, work, a training program, or mentorship relationship, suggests that underrepresented minority (URM) students are more likely to pursue a science career if they internalize the values of the scientific community—such as believing that it is important to work to discover knowledge using the scientific method or that scientific research can solve many of today's global challenges (Estrada et al., 2011).
On November 28th, Alexandra Ambrico — Special Projects Manager for the Alliance, spent the day at Medgar Evers College (MEC), part of the City University of New York (CUNY). Located in the Crown Heights section of Brooklyn, MEC's motto "We create success one student at a time" – resonates with the aim of the Alliance.  With a diverse student body representing all areas of New York City, approximately 75 percent of the students are female and over 96 percent are of African descent, with both groups historically underrepresented in science, technology, engineering, and mathematics (STEM). 
The College participates in the Research Initiative for Scientific Enhancement (RISE), a program of the National Institute of General Medical Sciences (NIGMS) of the National Institutes of Health (NIH).  The focus of this program is to increase underrepresented minority PhDs or MD/PhDs in the field of biomedical and behavioral sciences research. The program provides grants to institutions who have a commitment and history of developing students from populations underrepresented in biomedical sciences as defined by the National Science Foundation.  RISE aims to increase the overall number of underrepresented students that complete a PhD and continue in biomedical research careers, thereby reducing the existing gap in completion of PhD degrees between underrepresented and non-underrepresented students. MEC's Dr. Mohsin Patwary, Dean and Professor of Biology, Director, CUNY Research Scholar Program and Dr. Amal-Nur-E-Kamal, Professor of Biology,  were awarded the five-year $2.2 million NIH Research Initiative for Scientific Enhancement (RISE) Grant. RISE Scholars participate in academic year and summer research internships with a research mentor in research active laboratories at MEC, SUNY Downstate Medical Center, and several other research labs that have agreed to host MEC-RISE students. 
Alex's visit began with a meeting with the Predominantly Black Institution (PBI) Prep Program, whose aim is to provide the MEC students a competitive edge in the workforce. Meseret Tzehaie, the Director of the PBI Prep Program, Peer Mentor Kumba Jobarteh, and The School of Science hosted Alex, where she met with a group of science driven-students looking to pursue doctoral studies in the biomedical sciences. During this time, Alex discussed with the students, from Freshman to Seniors, the importance of pursuing a career in science and introduced them to the novel approach that is the NIH Oxford-Cambridge Scholars Program.  After answering questions and getting to know the interests of the students, Alex was invited to the science building where she was asked to join a research class of the RISE Scholars to discuss the pathway for pursuing a PhD and MD/PhD and the experiences of the students in the NIH Oxford-Cambridge Scholars Program.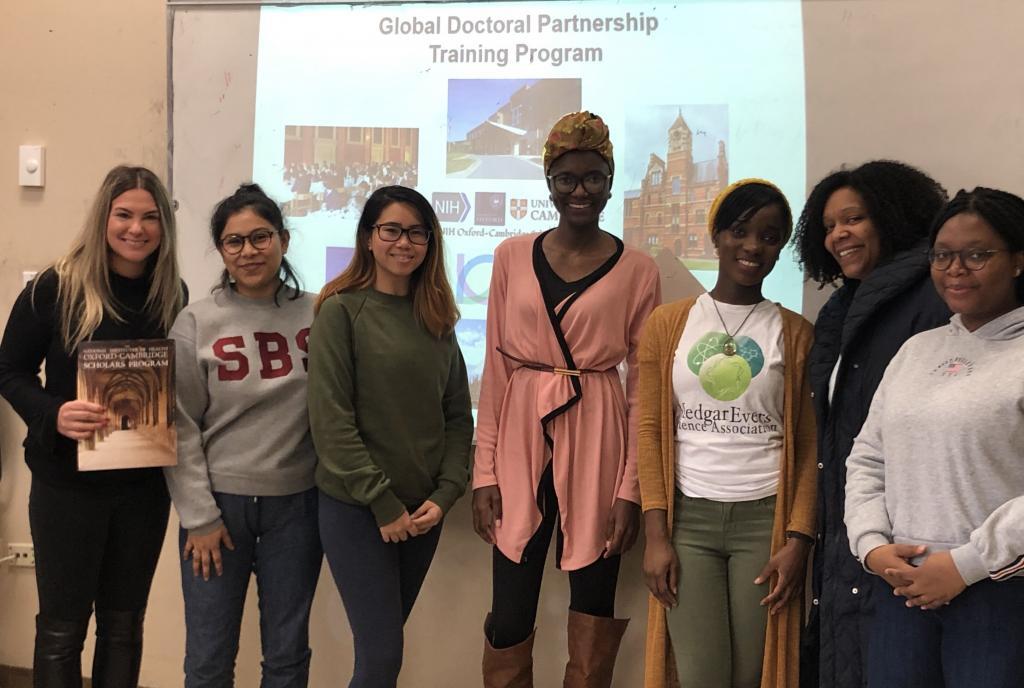 The students showed great enthusiasm and intrigue in learning more about careers in biomedical research, asking excellent questions throughout. In reflecting on the visit, Alex said "It was rewarding for me to learn that these students were familiar with the OxCam program and were excited to learn more about the accelerated experience. They asked pointed questions about applying to the program, choosing a mentor, and training/living in both the US and UK. What I thought would be a quick overview lasted over an hour and I was happy to stay and answer all of their questions." Shel Lame Gill, President of the Medgar Evers Science Association, asked if Alex would come back at another date to talk to the students more and organize a science event.
Alex was invited to have lunch with Dr. Terrence Blackman, the Dean of the School of Science, Health and Technology and his colleagues. They talked about the benefit of these conversations and introducing students into both PhD and MD/PhD programs. Present at the luncheon was invited guest, Kevin L Gardner, MD, PhD, Senior Vice Chair, Department of Pathology and Cell Biology at Columbia University. Dr. Gardner also spent 25 years of his career at the NIH prior to moving to Columbia.
"We are very pleased that Alex took the initiative to visit MEC and spend a day with their students discussing careers in biomedical research" said Alliance president Randi Balletta. "The future of biomedical research – really good research – is very much dependent upon a melting pot approach to problem solving that includes all spheres of diverse research insights and subject populations. It is incumbent upon everyone who cares about research to strive to consider the importance of diversity in their lab." The Alliance looks forward to continuing to encourage tomorrow's scientists to reach for the stars today.