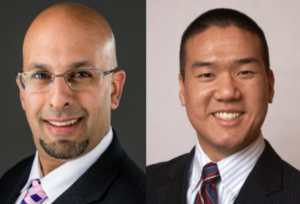 What do Drs. Justin Lathia and Stan Wang have in common? Besides both being NIH-Cambridge alumni, they are rising stars in their respective fields.
NIH-Cambridge Scholar and alumnus Justin Lathia, PhD, Associate Professor in the Department of Cellular and Molecular Medicine at the Lerner Research Institute at the Cleveland Clinic has been named one of Crain's Cleveland Forty under 40. "The nationally renowned cancer stem cell researcher has contributed to the understanding and treatment of glioblastoma and other types of cancers. Lathia is known for his work with cancer stem cells, but says some of the new work in his lab has 'the potential to change the conversation around brain tumors'" remarked Lydia Coutré.
"This is a great demonstration of the strength of the team we have built and our collaborative network that has resulted in a clinical trial in glioblastoma. Many of the skills necessary to make this happen were developed during my time in the NIH Oxford-Cambridge Scholars Program, where I had to navigate multiple collaborations" said Dr. Lathia. 
Alumnus and NIH-Cambridge Scholar Stan Wang, MD, PhD, has been named as one of Forbes  30 under 30 in Healthcare.  The 2019 class of healthcare-minded individuals features a number of physicians, biotech innovators, and researchers all aiming to improve healthcare. Dr. Wang and two colleagues were on the list for co-founding Cellino Biotech. Cellino's aim is to digitalize stem cell differentiation by applying the latest tools from optics, biology, and computation to engineer functionally mature cells. Their technology accelerates the development time of engineered cells from years to months, making "light speed" an ideal metaphor for their vision.
"Though honored by this recognition, I am inspired by the leadership, passion, and grit of fellow NIH-OxCam entrepreneurs, including Adam Knight, Michael Chen, Geoffrey Lynn, Andrew Ishizuka, Ambika Bumb, and Katie Warner. It is through our collective efforts as an alumni community that these advances in biomedical research will be brought to bear on impacting the lives of others" remarked Dr. Wang.
Our alumni are changing the way science, innovation and healthcare are progressing. We know that the current scholars and alumni will continue to thrive and be awe-inspiring rising stars.