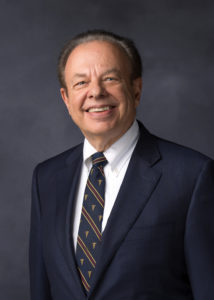 Dr. Korpman will provide mentorship to PhD and MD/PhD students in the US and UK   
The International Biomedical Research Alliance, a non-profit organization which provides programming and funding support for the National Institutes of Health (NIH) Oxford-Cambridge Scholars Program, today announced that Ralph A. Korpman, MD, is joining the Alliance's board of directors. Dr. Korpman is executive vice president and chief scientific officer at UnitedHealth Group and is a professor at the Loma Linda University School of Medicine.
"We are delighted that Dr. Korpman has agreed to join the Board of the International Biomedical Research Alliance," said Stephen M. McLean, chairman of the Alliance Board of Directors. "I have been aware of Dr. Korpman's revolutionary work in the field of patient care management technology for many years. His experience in academia and his entrepreneurial work provide a unique prospective from which the Scholars will no doubt benefit." 
"I am looking forward to mentoring these gifted early-career researchers who represent our next generation of scientific leaders," said Dr. Korpman. "After having spent years focusing on the integration of new technologies into improving direct patient care, the time has come to now spend some of that time stimulating Scholar awareness and thinking on this axis, launching a new generation of research in this pivotal area and, ultimately, giving rise to better patient outcomes."
Dr. Korpman is a recognized pioneer in the medical informatics field, beginning with his early work in introducing the concept of automating the clinical laboratory more than four decades ago. He has been instrumental in defining each new generation of health information systems over the years, being among the first to introduce the concepts of point-of-care systems, integrated clinical systems, and physician portals. 
Dr. Korpman continues to advance his vision of the ubiquitous use of technology in health care by serving in a number of pivotal health care IT roles, including his current roles as executive vice president and chief scientific officer at UnitedHealth Group where he continues a lifelong focus on Individual Health Records.
Dr. Korpman served as founder, president and CEO of Health Data Sciences Corporation to pioneer Electronic Medical Records, and as chief scientist at Medaphis Corporation and Per-Se Technologies. Previously, Dr. Korpman founded Medical Data Corporation, a company that developed a variety of turnkey information systems for hospitals and U.S. government facilities throughout the country.
In addition to his corporate work in health care informatics, Dr. Korpman remains heavily involved in academia, including as a full professor at Loma Linda University School of Medicine. 
Dr. Korpman received his bachelor's and doctoral degrees from Loma Linda University, where he also completed residencies in anatomic pathology and laboratory medicine and a fellowship in clinical hematology. He conducted his graduate business studies at the Claremont Graduate School.
Dr. Korpman is the recipient of a number of awards, including the Young Presidents Organization Entrepreneur of the Year and Computers in Healthcare Health Care Pioneer. He is the author of more than 100 refereed articles and holds more than 50 patents. He has testified extensively over the years before Congress and before Federal agencies and was a founder of both the ANSI HISB and ISO TC 215. He is also committed to civic and community affairs, serving on several college and not-for-profit foundation boards.