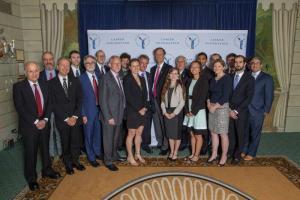 Once again this September, the International Biomedical Research Alliance was fortunate enough to host six students in the NIH Oxford-Cambridge Scholars Program for a visit to the New York area to meet with science icons.
The trip began on Wednesday, September 21st with a meeting at the newly-opened (August 2016) Roy and Diana Vagelos Education Center at Columbia University Medical Center with P. Roy Vagelos, M.D. Dr. Vagelos is the Chairman of the Board of Regeneron Pharmaceuticals and the retired Board Chairman and Chief Executive Officer of Merck & Co., as well as Board Member Emeritus of the Alliance.
In a conference room within the 14-story glass tower with sweeping views of the Hudson River, Dr. Vagelos related the story of his career – from his humble beginnings and early ambitions to help care for people, to his research at the NIH, in academia, and finally to his rise at Merck, all the while putting humanity at the forefront of his work. Dr. Vagelos played a pivotal role in 1987 in committing Merck to donate Mectizan – as much as needed for as long as need – with the goal to help in eliminating river blindness. Today, the Mectizan Donation Program is the longest-running, disease-specific drug donation program of its kind and has been foundational in the growth of a number of other drug donation programs. The program reaches more than 250 million people in affected areas annually, with more than 2 billion treatments donated since 1987. NIH Oxford-Cambridge Scholar Huayu Ding noted, "I was most impressed by Dr. Vagelos, both in meeting him in person as well as in hearing stories about him from people at Regeneron. He had a clear vision of how science and drug discovery should be carried out and strong principles about how to run a company to help people. In addition, he had an excellent sense of humor."
The following morning, the scholars traveled to Tarrytown, New York for a day-long visit to the campus of Regeneron Pharmaceuticals. George Yancopoulos, M.D., Ph.D. Founding Scientist, President of Regeneron Laboratories and Chief Scientific Officer, has enthusiastically welcomed NIH Oxford-Cambridge Scholars to his company each September.  The visit included an overview of the company, tour of the facilities, scientific presentations by Regeneron scientists as well as presentations made by the scholars on their research projects.  NIH OxCam Scholar Joanna Cross commented, "As someone who has only been involved in academic research, it was helpful to have first-hand experience [visiting] with a bio-tech company.  The profit side of industry has previously made me apprehensive about leaving academia, but I was impressed that Regeneron is still mainly science-driven.  The equipment available, especially in the genetics section, was amazing." Scholar Keval Patel remarked, "The opportunity to visit Regeneron was my first exposure to a pharmaceutical company. One thing I noticed during my visit was how proud each person we interacted with was with the work they were conducting.   Dr. Yancopoulos is a great role model for many of us starting our biomedical science careers, and it was inspiring to see his enthusiasm for science, even at this stage in his career, during our presentations."
Later that evening, the Scholars were the guests of honor at a cocktail reception held in the home of Alliance board member Ann W. Jackson. Guests included individuals representing science, business, academia, private industry, philanthropy, the Lasker Foundation, and New York City area alumni of the program.
The following morning, the group attended the Breakfast at Lasker – an intimate gathering of the 2016 Lasker laureates, the NIH Oxford-Cambridge Scholars, the Lasker Clinical Research Scholars, winners of the 2016 Lasker Essay Contest, and representatives of the Alliance. Moderated by Jordan Gutterman, M.D., the breakfast was a roundtable discussion where the young scientists freely posed questions to the winners in order to gain sage career and life advice.  Recommendations from the laureates were constructive and priceless.
Bruce Albert (University of California, San Francisco), winner of the 2016 Lasker~Koshland Special Achievement Award in Medical Science, reminded the young trainees that the "people at this table do not ask small questions – go for big problems" as they were urged to continue to conduct their research in the face of what may often seem to be a litany of failures. "It was reassuring to hear that the Lasker winners also ran into many obstacles on their road to discovery, and their stories reiterated the point that perseverance and good science will eventually lead to success," noted Scholar Ding.
William G. Kaelin, Jr. (Dana-Farber Cancer Institute/Harvard Medical School), co-winner of the 2016 Albert Lasker Basic Medical Research Award for his work in oxygen sensing, offered practical advice and emphasized the need for more young scientists to involve themselves in research-related social media discussions in order to advance science communication. He noted that "cancer is like having 9/11 every other day," and the urgency and importance of research needs to be communicated to the public through all means. The laureates echoed the notion that students should not shy away from being the spokespeople for science.
Referring to the three co-winners of the 2016 Lasker~DeBakey Clinical Medical Research Award (Ralf F. W. Bartenschlager of the University of Heidelberg, Charles M. Rice, of the Rockefeller University, and Michael J. Sofia, formerly at Pharmasset; now at Arbutus Biopharma), Scholar Patel expressed that "It was amazing to meet with the people responsible for the discovery and development of the cure to a disease [Hepatitis C] that, until my second year of medical school, was a lifelong condition for those infected. As a PhD student, it was inspiring to meet successful scientists who had to overcome years of negative results with incredible persistence to make a profound discovery."
The Scholars raised questions about interviewing for positions where they may be lacking in a specific skill. You "must learn new things on the industry side to be effective at what you do," urged Sofia. The laureates described techniques as being "enabling but transient." Scholar Cross added, "After listening to the Lasker winners, it inspired me to be bolder as I move forward in my career.  It is both scary and exciting to leave graduate studies and decide what path I want my career to take, especially if the area lies outside my prior experience.  However, the advice from the winners was to not be put off by unknown techniques but to be brave and show what I can do."
On the topic of both the advantages and challenges of global collaborations, the laureates agreed that these collaborations are imperative and are becoming easier to manage. One of the strengths of the NIH Global Doctoral Partnerships and the NIH Oxford-Cambridge Scholars Program that the Scholars freely articulate is that negotiating their dual-mentored collaborative projects on both sides of the Atlantic better prepares them for a dynamic research career in a way that few programs can claim. Scholar Cross observed how welcome the Scholars were made to feel: "Everyone was willing to share their experiences and advice and one of the P.I.s approached me to ask my opinion on a discovery his lab had made.  This experience reinforced my belief that collaboration is of the utmost importance and I was grateful for the opportunity to attend."
The breakfast was followed by the 2016 Lasker Awards luncheon in which Dr. Claire Pomeroy, in her opening remarks, acknowledged the NIH Oxford-Cambridge Scholars Program alongside the Lasker Clinical Research Scholars. Sean Carroll, Vice President of Education at the Howard Hughes Medical Institute and professor of molecular biology, genetics, and medical genetics at the University of Wisconsin-Madison, delivered his keynote address entitled "Seeking Thrills Through Science." For full descriptive information on the 2016 Lasker Award winners, video viewing of award overviews, and expectance speeches, please visit http://www.laskerfoundation.org/awards/.
In summing up the meetings and events hosted by Dr. Vagelos, the Alliance, Regeneron, the Albert and Mary Lasker Foundation, and the Alliance, Scholar Andrew Breglio commented, "I can't thank everyone enough for an incredible trip to the Lasker Awards. It was a once-in-a-lifetime opportunity to meet, converse with, and learn from so many influential figures in the world of science and medicine. I think those few days help me gained some clarity in regards to my career trajectory."